17th Annual Nativity Exhibit The Friendly Beasts
December 4 @ 9:00 am

-

December 21 @ 9:00 pm
17th Annual Nativity Exhibit
"The Friendly Beasts" Curator: Ellen Mintz
Monday, December 4 through Thursday, December 21, 2023
Sunday through Thursday, 9 am – 5 pm; Friday and Saturday, 9 am – 9 pm
After hours, a "stroll-by" exhibit of select nativities may be viewed from our breezeway Monday, December 4, 2023 through Sunday, Jan. 7, 2024
Every year we feature a specific aspect of the Christmas story. And each year we learn something new about the Nativity and how it has been celebrated throughout history. This year we have focused on the animals – those in the stable, those who played a part in Mary and Joseph's remarkable event, those who have made an appearance in scenes throughout the world. The tradition of including animals in the scene reminds us of the universal appeal of the story and that all creatures in creation are part of God's gift of life. Please join us to celebrate the Christmas miracle again this year.
Admission is free – our Christmas gift to you!
We look forward to your attendance and support ~ donations are always appreciated. School groups, prayer groups, families & individuals are all welcome. Reservations required to schedule docent led tours (student tours $3/person; adult tours $5/person). During the holiday season bring your office staff party, family or faith community/prayer group for a holiday meal catered by our hospitality team, surrounded by the lights of the Christmas season.  For more information call at (310) 377-4867 ext. 221 or email Sydne at .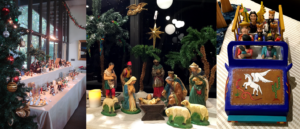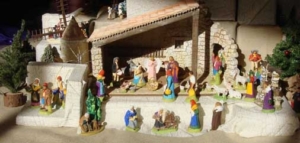 Related Events