16th Annual Nativity Exhibit: "Presents and Presence"
December 5, 2022 @ 9:00 am

-

December 21, 2022 @ 9:00 pm
16th Annual Nativity Exhibit: "Presents and Presence"
Curator: Ellen Mintz
Monday, December 5 through Wednesday, December 21, 2022
Regular hours Sunday through Thursday are 9am-5pm; Fridays, Saturdays, 9am-9pm
A "Stroll-by" exhibit of select nativities that can be viewed from our breezeway at any hour ~ Monday, December 5 through Friday, Jan. 6, 2023
Please join us for our 16th annual Nativity Exhibit celebrating generosity, the Spirit of Christmas. Each year we consider different aspects of the Christmas story and the way it is celebrated. As we look at elements of the story throughout time and place, we learn how many have brought their own particular experiences to the celebration. Familiar figures and gifts may have their origins in earlier cultures, stories, and beliefs but they all become part of honoring the Holy Family and the first Christmas night in Bethlehem. Please visit our exhibit or view it online.
Admission is free-Our Christmas gift to you!
We look forward to your attendance and support ~ donations are always appreciated. School groups, prayer groups, families & individuals are all welcome. Call in advance for scheduling and price quotes for docent tours or field trips. Also, during the holiday season — bring your office staff party, family or faith community/prayer group for a holiday meal catered by our hospitality team, surrounded by the lights of the Christmas season.
For more information call at (310) 377-4867 ext. 221 or email Sydne at . For health and safety, we honor LA County Requirements & Archdiocese Health Guidelines.
Printable pdf of Nativity Exhibit Catalog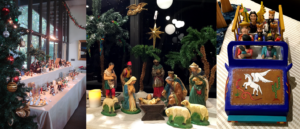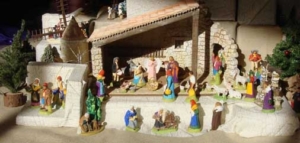 Related Events